Epictetus once said, "We have two ears and one mouth so that we can listen twice as much as we speak."
Currently, individuals with sensory processing disorder total 5-16.5% of the population. As for children on the autism spectrum, the CDC reports that 1 in 44 children will identify with the disorder.
When we consider the scope of these figures, it's important to acknowledge the experiences of each child. Therefore, as we listen attentively, we'll gain a better understanding of life through their perspective.
By refusing to acknowledge their viewpoint, parents will likely lose the ability to understand hurdles faced by their children.
For example, clothing tags may not deliver you any discomfort, so you may not even pay any mind to the feeling of these tags on your skin. However, for children with sensory processing challenges, it's an entirely different experience.
Therefore, a clothing tag that's inconsequential on your skin may cause irritation for your child. In this case, it's not uncommon for someone to feel that a child is overreacting, but a parent mustn't dismiss things so easily.
As colder temperatures continue, this time of the year will bring different challenges, and one hurdle in particular will involve some children wearing winter clothing. Today, I'd like to offer three tips to help parents during colder months.
Open communication
 As the season transitions from one to the next, you're likely aware that certain clothing textures may cause greater discomfort than others. Additionally, you're also likely aware that your child will feel discomfort because of being too warm in certain jackets, sweaters, and the like.
Enough so, this warm feeling may motivate your child to reject winter jackets entirely. To prepare your child for this winter transition, open dialogue is key.
When communication is both clear as well as open, this will help you explain why seasons change, how we can navigate temperature changes with specific clothing options, and how these clothing choices can protect us especially during colder months.
Because this dialogue is open, your child will likely offer feedback and ask questions. Instead of seeing the feedback and question phase as a hindrance, use it as an opportunity to understand your child's point of view.
With continued communication, you'll eventually uncover what fabrics work best, what textures do not, and what clothing changes will help your child best adapt to the season.
Throughout this process, one thing, which you mustn't practice is dismissal.
In other words, don't dismiss how your child feels. Remember, the clothing tag may seem inconsequential in your eyes, but it's possibly a big deal for your child due to discomfort. Due to this, it's important to recognize the experience of your child – not yours.
Independence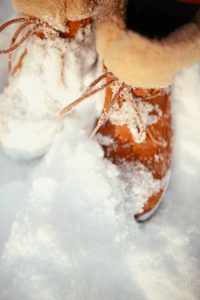 When children feel that they're able to make certain decisions, this process can lead to a feeling of independence. With independence, this can help children believe that they have a say in the challenges, which they face.
If we keep this in mind, offer your child the ability to choose from pre-selected outfits. Although they're making the final decision between one option over other options, you're still setting the guidelines.
In the end, you're both producing the desired outcome: wearing appropriate clothing for the winter. Whenever the family will venture out for the day, prepare the different clothing options most applicable for the weather.
After selecting and putting the different outfits on display, allow your child the freedom to make a personal selection. During this process, your child may spend a lot of time feeling the texture on each clothing option. At times, your child may even ask to make changes.
For example, your child may ask to switch the sweater from one outfit with the sweater from another outfit. Because this switch is still part of your pre-selected options, and because it falls in line with remaining warm for the day, you'll both win.
Fashion Show
Think of this as a dress rehearsal for the big day. Before you venture out in public, set a time where your child will test out the selected outfit. This way, you'll get an authentic understanding of its comfort level.
Instead of waiting to experience a reaction while out in public, you can best understand the experience right within your home. Because this is also about your child learning more about what feels good and what doesn't feel good, this experience will help them gain awareness as well.
In the process, you'll acquire information about what textures work, what textures don't work, what fit feels uncomfortable, and everything else in between. Whether this dress rehearsal occurs for 15 minutes, 30 minutes, or one hour, the end result will lead to more information that best serves your child.
If your child explains that a certain item feels really uncomfortable, this gives you an idea of what items to purchase less. Likewise, if your child explains higher levels of comfort for another item, this gives you an idea of what you should purchase.
Because this is a test run, you'll also save your child from experiencing discomfort outside the home. While in public, you're less likely to have a way to mitigate discomfort. However, within your home, you can easily choose a different clothing option if discomfort takes place.
Why is this important? Anxiety is an uncomfortable experience. When you complete this clothing test run at home, you can potentially decrease the anxiety, which your child may experience from wearing scratchy clothing in public.
As an occupational therapist, I aim to treat the whole person, and that's no different for children with autism or sensory challenges. By recognizing the individual needs of each child, I can best determine through therapy the appropriate ways to help.
Some children have heightened sensitivities, but some children will have lower levels. Regardless of where your child falls on this metric, customized therapy will determine the right course of action.
Finally, because I understand that winter can produce many challenges for families, please know that I'm here to help you and your children during this process. As we listen to them, there's a world of information for us to learn.
At Occupational Therapy Concept, You're Family. For a Free consultation, give me a
call at (718) 285-0884 to answer your questions about children with sensory challenges.