Let us be honest.  There are things that we do not pay attention to anymore—for example, our posture. Since working at home or working in an office, sitting down on a chair and staring at the computer for hours or writing rigorously on papers is a typical work routine. However, this is very unhealthy since it causes aches and pains in our body since it has not been moving for an extended time.
With that, here are three of the easy yoga poses that you can do at home. The best part? You do not need any equipment and will only take a few minutes of your day.
1. Child's Pose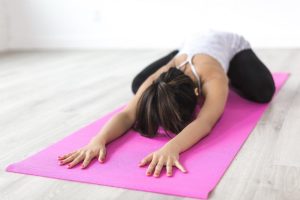 Whenever you watch YouTube videos about yoga, you will likely encounter this position. Child's pose, also known as Balasana, is a famous yoga stance since it is effortless to do and can genuinely relieve body aches in no time.
How to do it? To start, position yourself on all-fours, with both hands and knees on the ground.  Shoulder stack on top of your elbows, hips stack on top of your knees.  Toes pointing back, big toes touching each other.  Take your knees wide, and in your next exhale, lower your hips down to your leg, forehead to the ground. Relax your shoulder and your neck.  You can modify this position by placing a block or book under your hips if you feel too tight or on your forehead if you feel dizzy. Maintain this pose for 5 to 10 slow breaths.
Why is it great? First, it is excellent for stretching your hips, thighs, and ankles. It also relieves stress on your neck and back.  You can feel this when you hold this position for a number of breaths. Moreover, it aids in relieving your back, and neck pain since these parts suffer the most whenever we work for hours.
2. Cat-Cow Pose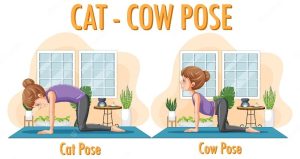 This is another famous yoga pose that is easy to do. As the name suggests, you will perform stretches that follow the form of a cat and a cow.
How to do it? This starts with all-fours with both knees and hands on the ground.  Knees hip-width apart. Make sure that your spine is in a neutral. In your next inhale, lift your head and chest up, feel your chest opening in the front, shoulder blades together. This is Cow pose. In your next exhale, round your shoulders down, roll your spine up, eyes on your belly, tailbone tucked in.  This is the cat pose. Do this three times or as you desire.
Why is it great? The Cat-Cow pose is great for people who want a yoga pose that helps to stretch your backbone, neck and your trunk. Additionally, it helps in aligning your spine. Plus, it relieves the tension from your shoulder as well. Finally, the slow breathing and transition of this pose help your mind, body, and soul to relax.
3. Leg Up Pose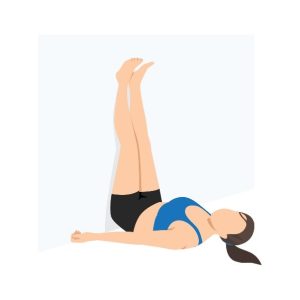 Usually, the ones that ache the most are our shoulders and neck. We often forget about our legs and feet that are just resting on the floor. Even if we are not walking a lot, you might feel some ache and pain. That is why you must try this position.
How to do it? As the name suggests, position yourself with your back and hips flat on the ground, raise your legs up with bottom of your feet facing the ceiling, legs resting on a wall. Hands on the side. Hold this pose for 5 to 15 breaths
Why is it great? This pose is the best way to relieve those cramps on your thighs and legs from not moving. It regulates the blood circulation, lowers the heart rate and relaxes the person which in turn lowers the stress, and anxiety.  It can also help in removing lower back pain by stretching it.
There you have it! Make sure to try the three easy yoga poses to relieve those pain from working or slouching too much. It can be done anywhere and is beginner-friendly. So, do not hesitate to give it a try. It will surely help you from experiencing those back, neck, shoulder, and even leg cramps.
At Occupational Therapy Concept, You're Family. For a Free consultation, give me a
call at (718) 285-0884 for further evaluation and customized help for your arthritis.