To improve skills in developmental areas, what's one of the best methods for children?
To improve creativity in children, what do experts recommend?
Do you have an answer?
If not, don't worry because you're not alone. To remove any further suspense, the often recommended method is imaginative play, or you can even classify it as pretend play.
You may not know the implications of imaginative play by its title, but your observation of children may jog your memory a bit.  If you're not aware of imaginative play, don't fret because that's why I'm here.
For that reason, I want to turn this into a two-part series. For today, I just want to give a brief overview of what imaginative play is, and I will also offer four key benefits.
So, what exactly is imaginative play?
In the presence of their limitless imagination, imaginative play is an unstructured role-playing scenario. While role-playing, children actively engage, in creative scenarios, that help them make sense of the world.
For instance, it can include a child having make-believe brunch, with action figures or dolls, while discussing ways to build relationships with a nearby kingdom.
As an another example, it can include your child playing the role of president. As president, he or she acts out a scenario involving a new federal law that mandates this: ice cream as the official national breakfast.
During childhood, the imagination isn't limited by the following sayings: that's not possible, that doesn't make any sense, or you cannot do X because you're X.
Because of negative reinforcement throughout society, these restrictions only develop as we get older. As children though, the imagination is only limited by what the individual child can, well, imagine.
During this COVID-19 pandemic, families will face restrictions on where they can go on a daily basis. In fact, even with businesses slowly opening up, it still poses challenges for parents trying to entertain their children.
As we still feel the effects of home quarantines, most families will experience restrictions on how best to entertain children suffering from boredom. You may have ways to quell your boredom, but it's important to see this unprecedented time through a child's perspective.
With the definition of imaginative play out of the way, and with the understanding that families must adapt and get back to the basics because of home quarantines, let's explore the benefits of imaginative play.
Wordsmith in training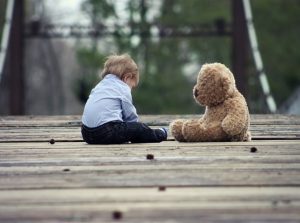 According to the American Speech-Language-Hearing Association (ASHA), language is a code made up of rules that include what word means, how to make words, how to put them together, and what combinations are best in what situation.
On average, and more than any other activity besides school or sleeping, most American children will spend most of their hours watching television.
What do you think happens throughout these television sessions? Communication. However, this doesn't mean that the child will entirely comprehend words expressed in television.
For instance, children from welfare families will have a cumulative vocabulary, by age four, of 500 words. For working class families, this number increases to 700 words. As for professional families, the figure is 1,100 words.
What does this mean?
The idea, behind the figures, is that there's a disparity in childhood vocabulary. To alter this difference, one method arrives through imaginative play.
In their imaginative state, children will be able to develop their understanding of language. Like the make-believe brunch example above, it's not surprising to observe your children reusing your own words.
Why should you consider this an important observation? Children are attentive listeners.
Because of this, it's important to monitor what you say, how you say something, and it's incredibly important to share new vocabulary with your children. In fact, when your child engages with other children, imaginative play helps all parties learn new words.
With the acquisition of new words, and by understanding the meaning of said words, it increases the child's interest to embrace pretend play even more.
Mental Growth
As we engage with our ideas, we're likely to encounter different problems and scenarios that require solutions. As we dive deeper and deeper into testing out these ideas, guess what will happen?
Solutions.
During imaginative play, children will face a series of different concerns, so he or she must then figure out how best to solve said hurdles.
For a child president attempting to mandate ice cream as a national breakfast, your child will have to assess a few things. What happens if parents disagree with the mandate? Will there be an official ice cream flavor? If so, which flavor and why?
If you add in one or more children, this will increase the probability to solve problems. After all, you now have additional mental resources to figure out X.
Although they're applying this fact-finding technique in imaginative play, the skill will extend into real-life scenarios as well.
Express yourself
For children to understand how to express their emotions, what better place than here? Truly, where else can you find a child being this unstructured and active in emotional expression?
In this imaginative state, it offers children the freedom to explore the full range of their emotions. For instance, while pouring out imaginary tea for visiting dignitaries, your child can express frustration with their inability to secure the following: a sanctuary for the unicorn population.
Throughout this briefing with dignitaries, you can even help your child discover how best to handle frustration during difficult negotiations.
Social engagement
One of the most important elements of imaginative play is this: improvement of interpersonal relationships.
When children engage with other children, imaginative play helps them recognize the importance of compromise, teamwork, appropriate versus inappropriate ways to communicate, etc.
From childhood into adulthood, interpersonal relationships will either give birth to positive or negative relationships with people. Therefore, the sooner we learn to engage with one another positively, the foundation of our social skills will become even stronger.
Even when children have solo imaginative play sessions, it can still foster positive interpersonal relationships. How so? While conversing with action figures, dolls, and the like, children will still interact, in ways, as if another child is present.
The idea is that through these make-believe conversations, children will emulate behavior, which they can then fine-tune while engaging in real-life scenarios.
Although there are more than four benefits, these four are important to keep in mind. In more ways than you may imagine, imaginative play sessions will help your child communicate more effectively later on in life.
Because this imaginary session is theirs to claim, allow them to feel at peace while there. In other words, don't impose your adult-oriented restrictions on what they can accomplish.
In part 2 of imaginative play, I'll share specific ideas for you to try at home, so be sure to check back.
At Occupational Therapy Concept, You're Family. For a Free consultation, give me a
call at (718) 285-0884 for further evaluation and customized help for your child's needs.