In the middle of the grocery aisle, you reach for the ketchup that's on sale, but it's not the brand requested by your son. Instantly, he plants himself on the floor, and he repeatedly screams at a sound decibel similar to jet engines: NOT THAT ONE.
In horror, shoppers look in your direction, so you turn to your son and yell, "Shut Up PLEASE." Out of frustration, one can justify this reaction, but by the end of today's post, I will make the case why you shouldn't do this during public tantrums.
Mom and dad, although these moments can feel frustrating or even embarrassing, responding angrily will not help you during a tantrum. On the contrary, it's bound to do the opposite because as your frustration heightens, you're likely to fuel the tantrum.
However, I understand your frustration because whether it's a meltdown or a tantrum, it's not easy to make the right decision in the moment.
With all of this said, one of the worst ways to handle a public tantrum is to do the following: yell angrily. So, if not this approach, what should you do?
Cancel out the noise
By noise, I'm not referring to the sounds coming from your child. Instead, the noise that comes to mind will include the judgmental glares and critical words from onlookers.
However, unless someone is actually offering assistance to you, block out the piercing glares and harsh murmurs.
Remain calm
When life overpowers us, we lose the ability to assess situations appropriately. For instance, whenever chaos grips the mind, our usual response is to do or say something, which we're likely to regret.
For this reason, remaining calm will help you from doing two things: agitating the moment, and keep the moment from overwhelming you. When you remain calm, you can best assess your child's tantrum, and you can recognize how best to proceed.
Acknowledge without caving
What motivates a tantrum? In the example above, the son wants a specific brand of ketchup. However, the parent recognizes that the ingredient list is the same for another brand, the taste is also the same, and more importantly, this alternative brand is on sale.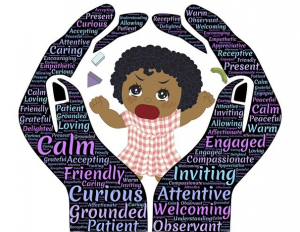 For a parent, it's far more reasonable to purchase the brand that offers a better value, and it's even better to purchase this alternative brand since the only difference is the name printed on the label.
To the child though, familiarity far outweighs all of these variables, so what do you do? Due to the selection of this alternative brand, consider explaining that you recognize why your child is experiencing certain emotions like frustration.
Acknowledge your awareness that your child is familiar with option A, but explain that if you remove the packaging from option A, it'll be exactly the same as option B. This means that the two brands actually taste the same, and they have the same quality, but option B will help save money because it's on sale.
"I understand that this may feel disappointing, but you will help mom and dad save money during today's shopping trip. Also, because we can't talk about how you feel when you shut down like this, you can help us out even more by calming down."
If you instead yield to tantrums, your child will use it against you again like a weapon. When your child settles down from the tantrum, it's also vital to point this as well. In other words, positive encouragement is one of the greatest forms of reward.
In fact, whenever we receive positive acknowledgement, it motivates us to repeat the action.
Additionally, by describing inappropriate versus appropriate conduct, you can increase the chances of your child responding differently when things don't go his or her way.
So, how can I help? Because addressing tantrums will not be easy, and because it can feel overwhelming for you, customized interventive measures will be key.  Along with core strengthening, and sensory stimulation, the child will improve his behavior, thus decreasing the frequency of meltdowns and tantrums. 
It's crucial to recognize that children with autism are individuals, so this means that each child will have individual needs, thus one size doesn't fit all. Through personal interaction with your child, it provides me a better understanding on how best to help your child's specific needs.
At Occupational Therapy Concept, You're Family. For a Free consultation, give me a
call at (718) 285-0884 for further evaluation and customized help for your child's needs.