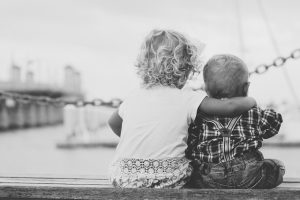 Is it possible to manage our emotions, or do we have little control when we express ourselves? While reading through today's topic, keep this question in mind as I share more information throughout this two-part series.
When it involves our emotions, people often run hot or cold. In other words, individuals tend to position themselves on an extreme scale.
On one end, we should be emotionless, but on the other, we should allow our emotions to occur uncontrollably. Regardless where people may position themselves on this extreme gauge, it's unlikely to benefit anyone.
Why is this even more important for children? Like a tidal wave rushing in your direction, children will experience emotional signals from all directions without fully understanding the differences. Basically, children don't have the experience or emotional intelligence to grasp the entirety of managing how they feel.
Since it's not uncommon for adults to mismanage their emotions, it shouldn't come as a surprise that children will face obstacles in this arena.
To put things into perspective, a study in 2017 was led by Alan S. Cowen and Dacher Keltner PhD from the University of Berkeley. Published in the Proceedings of National Academy of Sciences, this study concluded the following: there are 27 different emotions.
Previously, there were only six distinct human emotions – fear, anger, happiness, sadness, surprise, and disgust.
In the updated list, some of the six were absent, but it now includes such emotions as envy, anxiety, joy, awkwardness, sympathy, etc.
What's fascinating about this study is that from a single event, it highlights that we can experience a variety of different emotions. Additionally, our emotions can overlap one another, and this latter reason can explain why an emotion like anger didn't make the updated list. Instead, we can trace the origin of anger to one of the 27 emotions. To put it differently, some emotions are created from others.
Through experience, we should begin to recognize how we feel, and through this awareness, it becomes possible to manage how we should respond in life events. So, instead of allowing our emotions to run amok, or instead of conveying indifference, maturity helps us determine how best to act.
As mentioned before though, adults will have a challenging time with the complexities of their feelings, but children have it far worse.
Because there's such a wide range of emotions, children will experience difficulty separating one emotion from the next. Am I feeling this way, that way, or am I feeling something in between? When children don't fully understand what they're feeling, it becomes arduous to express themselves in a school setting, at home, in the mall, etc.
As we conclude this discussion in part two, I'll explain how to help your children weather this storm, how my expertise can fit into the equation, why it's important to begin implementation as soon as possible, and last but not least, please understand that you're not alone in this process. After all, life is a journey, and we can all benefit by receiving sound advice from one another.
At Occupational Therapy Concept, You're Family. For a Free consultation, give me a call at (718) 285-0884 if your child needs further evaluation and help.