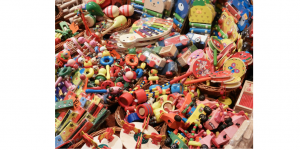 The Holiday season is right around the corner and gift shopping is a task we must take seriously, especially if it is for our little ones.  Toys are vital in a child's development.  It nurtures their brain development, imagination, improves fine motor coordination, and executive function.  You can find toys for all ages everywhere you look.
Sadly, not all toys are Toxin-Free.  Some of them are treated or made with harmful substances and chemicals. As parents, we need to carefully choose the toys we give our children and to other people as gifts.  These harmful toxins are hiding in plain sight and can be found in our children's toys.
We have seen an incredible increase in developmental delays and autism caused by different factors.  You also see in the news that there are a lot of children getting poisoned from Lead.
Toxic toys can contain a variety of harmful chemicals, metals, and metal-like elements.  These chemicals can severely disrupt a child's mental and physical development even at low doses.  These are dangerous in all age groups, particularly with younger kids.  Kids tend to put toys in their mouth and chewing them, which further increases the risk.
In a recent study by Dr. Turner, elements such as antimony, barium, bromine, cadmium, chromium, lead, and selenium were found in toys.  Over a period of time, all of these elements can be very toxic.  In further testing, these toys were introduced to diluted hydrochloric acid, which is found in our stomach, and some of the toy's paints released dangerous levels of bromine, cadmium, or lead.
Most parents will just buy toys, brand new or hand-me-downs, without looking much on where it was made or what is on the label.  We need to be more diligent and protect our children as much as we can.
Here are some strategies to make sure our kids are safe from these harmful substances:
Read the label.  By reading the label, you will be able to reduce the risk of exposing your child to harmful chemicals and elements.
Avoid toys with toxic materials that could cause poisoning. Make sure the label says "Non-Toxic"
If it smells "funny", return it.
Do your research first. You want to make sure that the toy or item is not being recalled for any defect or problem.
Check the CPSC website for recalled products. CPSC or S. Consumer Product Safety Commission protects all of us from serious injury or death.  You can visit https://www.cpsc.gov/Recalls.
Be wary of hand-me-down toys from grandparents or relatives. Especially if the paint is chipping.  Second-hand toys and hand me downs have been found to have higher levels of heavy metals which includes lead, often because they are manufactured before CPSC had adopted stricter rules to regulate the toy manufacturers.
If you have a special needs child and requires an individualized treatment, you can call me at (718) 285-0884 for a free consultation.